Setting up an offer - Smart Price
Generally, there are price differences in purchasing traffic in different countries. FuseClick offers Smart Price feature, help you to save traffic purchase cost and improve overall ROI. With this feature, you can not only set the unit price for the conversion generated in different countries, but also can further refine the setting scope for the conversion of the operating system of the device.
You can go to "Offers -> Manage Offers -> choose one offer -> Offer Detail" to set the Smart Price for the initial event.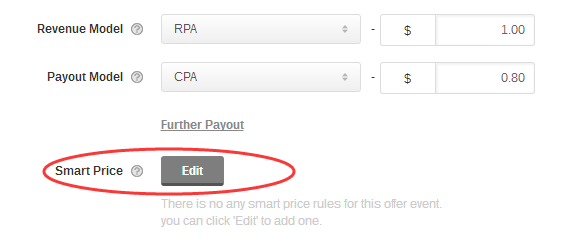 Fig.1 Smart Price in initial event page

Smart Price settings
You can set Smart Price by clicking "Edit" button, after that, you will have a pop-up window with Smart Price, where you can manage all of the Smart Price rules. There is no default Smart Price rule in the system. You can Add a new rule of Smart Price by clicking "Add Price". See Fig.2.
For example:
1. The rules are Countries and operating system, limited to China and Android;
2. Revenue is $1.50;
3. Payout is $0.75.
Explanation:
This example means if the traffic is from Android device in China, and after conversion, then the advertiser will pay $1.50 for you, and you should pay $0.75 for your affiliate. And report will record it. See Fig.3.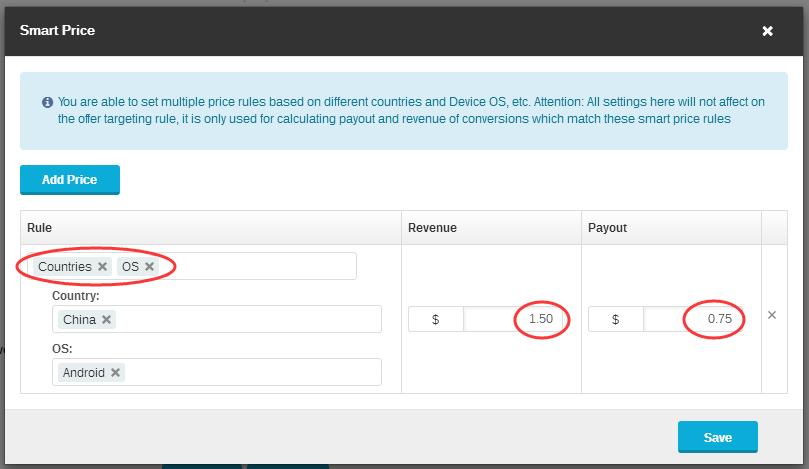 Fig.2 Smart Price rule page


Fig.3 Record in Conversion Report
Notice:
a. You are able to set multiple price rules based on different countries and Device OS, etc. Attention: All settings here will not affect on the offer targeting rule, it is only used for calculating payout and revenue of conversions which match these smart price rules.
b. If you set up the following Payout type at the same time, payout types can be ranked according to the priority level as follow:
From highest priority to lowest priority is: Special Payout > Payout Tiers > Smart Price > Default Payout. Details please refer to the <Setting up an offer - Events>.
Integration with FuseClick
Partner Integration with FuseClick