Network needs statistics of different dimensions to check the performance of Advertising campaign. Overall Report is a lay out of performance of your Advertisers, Offers, Affiliates more clearly, It enables you to check data with your advertisers and publishers, And to generate the invoices for your clients.
You can go to the report page via "Reports-> Overall Report" menu. It allows you to generate different reports by choosing different filter options. You can clearly understand which affiliates bring you high CR and ROI, which offer's quality is not good enough, etc, so that you can further analyze or stop the offer to lower your loss.
I. Filter
You can choose specific Advertisers, Affiliates or Offers to check the performance of Advertising campaign.


Fig 1. Filter panel

Notice: You can minimize the Filter panel by clicking the icon on the bottom right corner. For better user-experience.

All Filter Options in Overall Report are as follows:
1. Advertiser Manager: Filter advertiser managers. You can check the offer's traffic data of specific employee thru this option.
2. Advertiser: Filter advertisers to check the data of specific advertiser.
3. Offer: Filter offers to check the data of specific offer.
4. Affiliate Manager: Filter affiliate managers. You can check the data of affiliates who are managed by specific employee thru this option.
5. Affiliate: Filter affiliates to check the data of specific affiliate.
6. Event Range: Filter event range.
A. Choose All Event: You can see all events' data of the offer.
B. Choose Initial Event: You can only see the initial event's data of the offer.
7. Exclude Private Event: Report will not display the data of Offer's Private Event after open the " Exclude Private Event ".
8. Time Zone: Report by default displays the time zone according to the time zone settings in "Setup -> Settings -> General Settings". If you want to check the report with your Advertiser or publisher, you can switch it to the corresponding time zone to check.
9. Date Range: Filter date range. System provides some fast labels of :
A. Today
B. Yesterday
C. Last 7 Days
D. Last 30 Days
E. This Month
F. Last Month
This makes it more convenient to choose the time range. At the same time, you can also customize the time range by choosing the appropriate date and even the hour.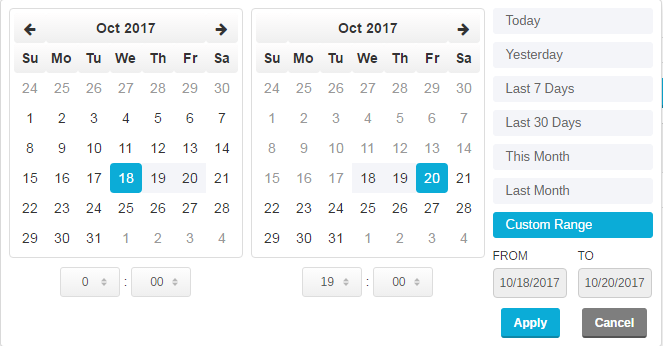 Fig 2. Data Range
Notice: When you compare the report with your partners, we suggest that you'd better choose the same filter with them, like time zone and date range.
II. Columns
In Overall Report, you not only can check the regular data such as Clicks and Conversions, but also other data items as shown in bellow snapshot. In addition, all your results can be grouped according to different time periods, such as Year, Month, Week, Date, Hour.


Fig 3. Custom Column

Overall Report contains many parameters, please refer to document "Report Glossary" to see all the details of the data item.

III. Query Data
You can see all corresponding data after click "Run Report" button in Filter panel. Furthermore, you can click on the header to sort it.


Fig 4. Report page

If you need to further analyze the data, you can click the top left button "Export". After a while, "Download CSV" button will be displayed, click it to export the file in CSV format.


Fig 5. Download CSV

Please pay attention: Do not close the browser while generating the CSV File.
Integration with FuseClick
Partner Integration with FuseClick