FuseClick has introduced a new on-demand feature named "Blocked Param". Affiliate networks can use this feature to optimize the traffic from Affiliates and their sub-affiliates in following scenarios:
1. When incoming traffic is very low-quality.
2. When incoming traffic doesn't fit the requirements.
3. When incoming traffic is Fraud/Junk and CR is very low.
4. When network wants to block empty IDFA/GAID traffic.

As this is an on-demand feature, please contact your FuseClick AM / BD to open this feature to your account. You can access this in FuseClick platform under "Campaigns->Block Param" menu. Please click on add rules to create new rules to block sub affiliates as per your requirement.

1. Create Rules
This section explains how to create rules to block sub affiliates with respect to Affiliates, Advertisers or Offers.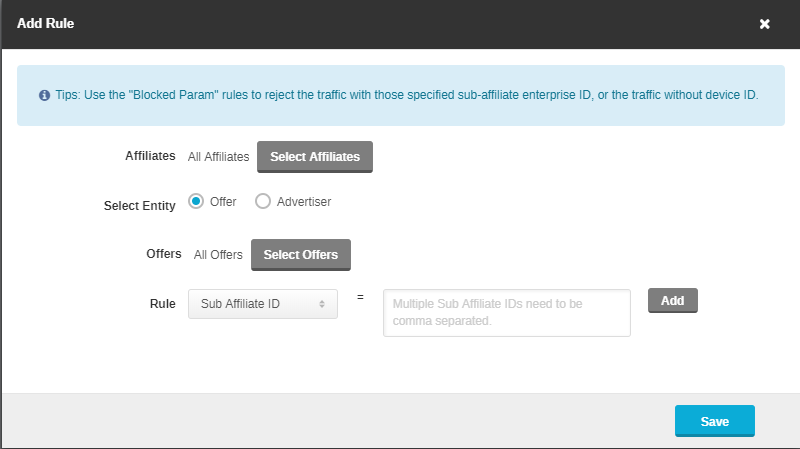 A) For Affiliates:
You can analyze which sub-Affiliate ID parameter is sending you bad traffic under reports menu. Go to, Reports- >Analysis report and choose sub-Affiliate ID parameter to analyze. From the reports data, if you think this affiliate sub
ID needs to be blocked, then choose Affiliates and offers and mention the sub affiliate IDs as shown in below snapshot.


Picture 2. Block The Sub Affiliate Traffic For Offer

B) For Advertisers:
If Advertiser wants to block sub-affiliate against any affiliate, then choose settings as per below snapshot:



Picture 3. Block The Sub Affiliate Traffic For Advertiser
C) For Empty parameter traffic:
If Advertiser wants to block the traffic which has empty Device ID or does not pass the Device ID parameter, please choose settings as per below snapshot:


Picture 4. Block The Empty Parameter Traffic

D) Note: Multiple Sub-Affiliate IDs should be separated using comma (,). You can add multiple parameters against Rule in the settings. If the rule fits all parameters then only can block this traffic. In case, it doesn't match any one of the parameter rule, then the traffic won't be blocked.

2. manage rules
You can edit/delete the rules which are already set. Please refer to as below snapshot:


Picture 5. Blocked Param List
Integration with FuseClick
Partner Integration with FuseClick