Advertiser Billing is a FuseClick's feature to manage invoices for Advertiser.

1. Create Invoices for Advertiser
You can create Invoices for Advertisers manually by clicking "Create Invoice" on "Billing>Advertiser Billing" page.


(Figure1: Create Invoices)

A. Select the advertiser account you want to create an invoice for, and then set the time range for a billing period:


(Figure 2: Select an Advertiser and set time range)

B. Click "Refresh" to get the currency options of available conversion records. Conversion list will be generated in a pre-gen invoice after currency options check. There is one pre-gen invoice for each currency option. Conversion list has detail information of each conversion including Offer, Event, Payout Type and so on. You can also edit the records:
I. Delete the conversion records from the list to remove them from the invoice.
II. Create or remove Adjustment items if you want to add additional rewards or deductions.
III. Add note for this invoice.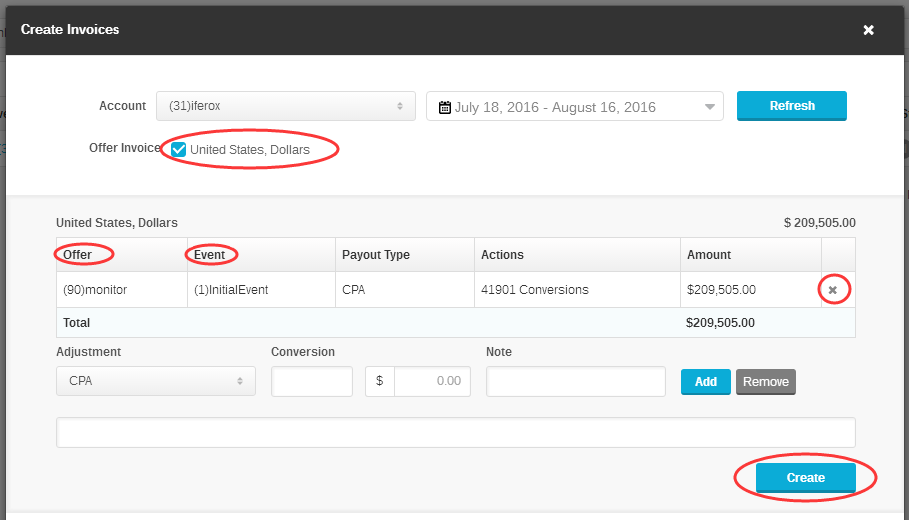 (Figure 3: Check the Currency to pre-generate invoices)

C. Click "Create" to create a new invoice for all amounts in the pre-gen invoice. Once invoice is created and invoice number is generated, you can click "Cancel Invoice" to cancel the invoice or go back to Billing Page.


(Figure 4: Cancel the invoice by clicking "Cancel Invoice")

2. Payment Status
Every invoice has 2 basic payment statuses: Not Received and Received.


(Figure 5: Payment Status)

(1)You can cancel an invoice at any time before it is marked as paid:


(Figure 6: Cancel Invoice)
(2)You can review the whole payment history in History window:

(Figure 7: View History)

(3)You can mark multiple invoices of one advertiser as Paid at the same time by using "Mark as Paid":


(Figure 8: Mark multiple invoices of an advertiser as Paid)


3. Edit Invoice
You can edit invoice by clicking "Adjust":


(Figure 9: Click Adjust to adjust the invoice)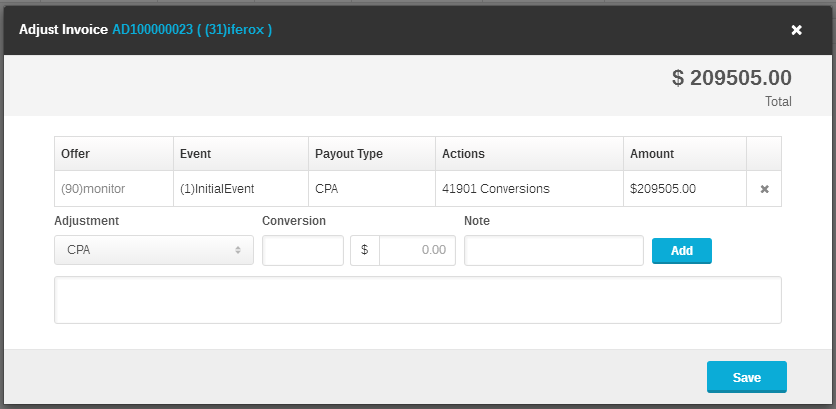 (Figure 10: Adjust the Invoice detail)
4. Manage Advertiser Invoices
You can manage all invoices in "Billing>Advertiser Billing" page. All information about invoices including Advertiser, Creation Date, Start Date, End Date, Invoice Number, Amount, Payment Status and History.

The filter contains options "Advertiser Status", "Invoice Status", "Payment Method", "Payment Period", "Advertiser Name" and "Invoice Number" for fuzzy searching.


(Figure 11: Search Invoices)

5. Manage invoices of an Advertiser
Click advertiser's name in the invoice list to manage all invoices:


(Figure 12: Manage Invoices of an Advertiser)


(Figure 13: View Invoices of an Advertiser)
Integration with FuseClick
Partner Integration with FuseClick