Setting up employee contact details
Go to Employee's detail, not only you can modify the information that you filled while creating new employee (for example: Name, Email Address, Password, Title, Phone, Office Phone, IM), but also can perform other operations as follows:
(1)Upload employee Profile Picture:
If the employee is Affiliate manager or Advertiser manager,we suggest you upload employee's profile picture, then affiliates are able to view their assigned account manager profile picture in their UI.



(Figure1:Upload employee profile picture)


(Figure2:Affiliates are able to view after login)

(2)Modify employee's status:
Click "Block" in top right corner of the page, and fill in the reason for Blocking. This function is suitable for employees, who quit the current job or not allowed to use this account.



(Figure3:Block the account)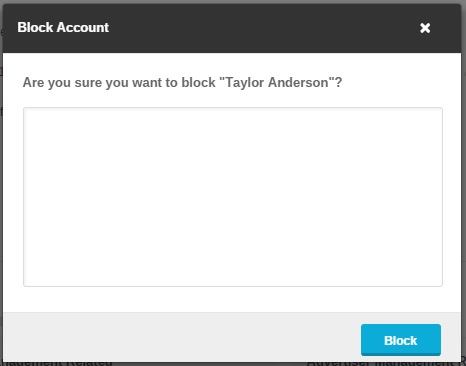 (Figure4:Fill in Block Reason)


(Figure5:After saved,Block Reason will be shown in the top of the page.)
You can unblock by clicking "Unblock" button.
Integration with FuseClick
Partner Integration with FuseClick